Welcome to the
Fayette County Neighborhood Council!
Welcome to the FCNC website, which represents over 130 neighborhood associations in Fayette County! Please browse the site and provide us feedback on how we can provide more information and communication for your neighborhood association.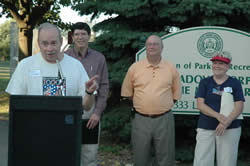 Neighborhood Profiles
Meadowthorpe Neighborhood Association
In 2007 the Meadowthorpe Neighborhood Association (MNA) undertook a major renovation of the Neighborhood Center at 333 Larch Lane in the Meadowthorpe Louie Mack Park. This building, which once served as the office building for the division of Parks and Recreation, desperately needed an overhaul. A leaky roof, a termite damaged decaying front wall, a damaged and dated tile floor, a cramped unusable kitchen and unattractive cinderblock walls were some of the problems the association faced when it took on the task of updating the center.
CONSENT DECREE STATUS UPDATE
On March 14, 2008, the U.S. Justice Department, the U.S. Environmental Protection Agency (EPA), and Kentucky's Environmental and Public Protection Cabinet (EPPC) announced that the Lexington-Fayette Urban County Government (LFUCG) agreed to make extensive improvements to its sewer systems, at a cost estimated to exceed $290 million, to eliminate unauthorized overflows of untreated raw sewage, and to reduce pollution levels in urban storm water. In addition, LFUCG agreed to pay a civil penalty of $425,000 to the United States and implement two federal and two state environmental projects valued at $2.73 million that will provide additional environmental benefits to the Lexington community.

On August 9, Judge Karl Forester, of the U.S. District Court for the Eastern District of Kentucky in Lexington, rejected the decree and ordered the parties to renegotiate the penalty. Subsequently, the EPA filed a Motion to Reconsider Order Rejecting the Consent Decree. Judge Forester has yet to rule on that motion.